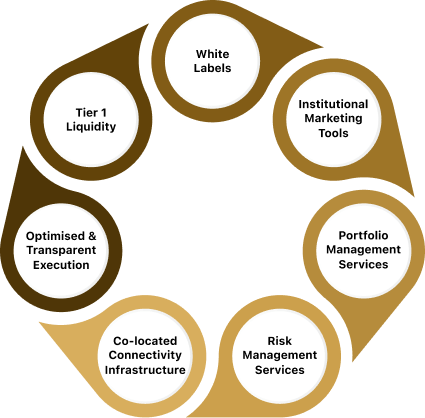 Enjoy a wide variety of financial widgets with drag and drop simplicity and affiliate tracking codes automatically embedded in the HTML code. Cut and paste our pre-made code with ease, giving you a suite of state-of-the-art financial widgets with real-time data to take your website to the next level.
Enhance your exposure and presence with some of these popular widgets:
Market Widget, Economic Calendar Widget, Small Markets Widget, Latest Analysis Widget, Scrolling Ticker Widget, Medium Chart Widget.
Custom Real-Time Chart Widget
Custom Real-Time Chart Widget is a powerful chart that can be easily embedded into any website. It provides flexibility for your visitors to customise the widget and include a detailed market snapshot of their chosen instrument, including the daily percentage change, open-high-low-close price and day's range.
The Single Symbol widget provides a quick glance of the chosen symbol, giving your website visitors access to the price, change, percentage change and the chart of the symbol all in one space. This powerful widget works great for homepages. You can simply choose your own symbol to display and customise it to adapt to your website.
The Small Markets Widget allows your visitors to showcase a simple line chart with history alongside a snapshot of all the major market moves. You can set your preferred list of instruments within this widget, so the list is relevant to your client base..
The Symbol Strip allows you to place a horizontal bar at the top of your website with pricing from your top 10 trading symbols.
Market Sentiment Indicator Widget
With our Market Sentiment Indicator, feel the pulse of the market by seeing the open positions of traders across a range of markets. Discover what percentage of clients are long versus what percentage of clients are short, on any given instrument, all displayed as a sliding scale. It's the ideal way to see the positioning of traders across the full range of FX and CFD asset classes.
Provide your visitors with a detailed market snapshot of their chosen instrument, including the daily percentage change and the all-important open-high-low-close price. With the flexibility to customise the widget according to your business requirements, select the market data that you prefer to display.
The Economic Calendar Widget provides the full list of economic events but in a smaller iframe, allowing clients to scroll to see the entire day's economic announcement activity.